Whether your goal is to escape on gravel back roads, far from cars and crowds, toe the start line at your first gravel race, or simply get the most versatile bike on the road or dirt, no bike is better than the new Diverge. It's quite simply the fastest, most capable—and just maybe the most fun—alloy bike we've ever made, delivering a ride that's quick and lively, but stable and confidence-inspiring when the terrain gets rough. With all-new gravel geometry and category leading tire clearance, the new Diverge represents everything we've learned over more than 40 years of riding road, gravel and dirt. The Diverge writes an entirely new chapter in the gravel bike category, so you can dream up entirely new rides. It's the ultimate getaway vehicle. With a premium E5 alloy frame and a full carbon FACT fork the Diverge E5 delivers a fast, confident and comfortable ride on road, in the dirt, and over thick gravel. Shimano's Claris 2x8 group gives a wide range of gears for any terrain, while Axis Elite alloy wheels and Pathfinder Sport 38mm tires provide an efficient ride on pavement with the versatility for hard pack dirt riding. - Our Premium E5 Aluminum frame provides a stiff, light, and durable platform. When mated to our full carbon FACT fork, the Diverge Base E5 becomes a light, lively and versatile bike ready to attack any surface. - We tossed gravel geometry 'status-quo' out the window. The new Diverge has the most progressive geometry we've ever created for a drop bar bike, giving riders a capable and stable bike in the dirt, that still feels responsive and nimble on the road. We've increased the frame's reach, introduced a slacker head tube and a longer offset fork. All this creates incredible confidence with a planted feeling in the dirt, while spec'ing shorter stems keeps the overall cockpit length the same and the steering lively. We've kept the bike's BB low to increase stability, but high enough to utilize with 650b wheels if that's your jam. - We've given the Diverge plenty of rack mounts, including fork and top tube mounts, to ensure you can take what you need, no matter how far you plan to go, or how long you plan to stay out. - Nothing unlocks a bike's capability like tire clearance, so we gave the new Diverge a whopping 47mm of tire clearance with a 700c wheel and 2.1" with a 650b wheel. Thanks to a drive side chain stay utilizing a machined alloy beam behind the chain rings we've created clearance without using a fragile dropped chain stay design or increasing chain stay length.
The Rove has become the go-to bike for people all over the world that are itching to just...go! It's spec'd just right, is easy on the eyes—the Rove makes quick work of the commute, gravel trail, or the after-work fitness lap on your local hill. The Rove is the elusive 650x47c steel bike that you can afford. It was cool before cool was cool. It is a bike that wants to ride anywhere YOU want to ride. KONA CROMOLY Very few materials offer as much shock absorption, durability and supple-ride characteristics as steel. We've never strayed from cycling's original material and have worked tirelessly to adapt, refine and innovate Kona Cromoly framesets as rider demands continue to evolve. TAPERED HEAD TUBE More girth at the bottom of the head tube better distributes shock force, prolonging the bearing life of the headset itself and eliminating brake shudder, while providing confident steering performance. The inherent strength of its triangular design also means a stronger steering position and improved balance, giving the rider more control in rough terrain. A zero-stack, tapered head tube also puts strength where the load is going—into the lower headset cup—maximizing bearing durability where it's needed. TUBELESS COMPATIBLE RIMS Tubeless rims allow for tires with more puncture resistance; the ability to run lower tire pressure, which provides better tire grip on the trail; lower rolling resistance; and weight savings over traditional tube and tire systems. 12x142mm AXLE 12x142mm, 12x148 and 12x157 rear axle standards provide two major advantages to the Kona rider: the 12mm diameter of the rear axle provides the rear hub and frame with a stiff interface, while the 142/148/157mm outer diameter of the hub allows the wheel to be quickly and properly positioned in the frame before the rear axle is inserted. For 2017, you'll see the 12x148 Boost standard in the mix. Boost spacing provides more tire clearance at the chainstay yoke, while the rear wheel is stiffer and more durable relative to a 12x142 thru-axle. 650b WHEELS 650b wheels and tires have a similar overall diameter to a traditional 700c gravel or commuting tire, but with a smaller diameter rim and a wider, taller tire. The extra air volume in this new generation of urban and mixed-surface tires means they can be run comfortably at lower pressures while still rolling quickly on a variety of surfaces. It's the best of both worlds.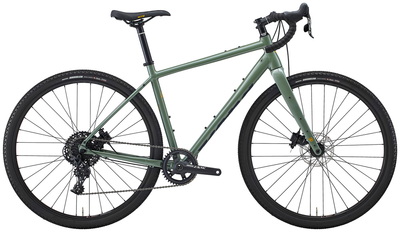 You're the type of rider who wants something progressive that still performs well on typical terrain. Road. Gravel. Singletrack? The Libre takes the traditional, flips it on its side and adds a little je ne sais quois to your rides to make them a whole lot of fun. It's lighter than your old "gravel" rig, and has more aggressive geometry so that when you decide to skip the pavement you can chuckle your way down the unbeaten path without apologies. It's affordable, a little bit weird, and exactly how we want our gravel bike to feel.